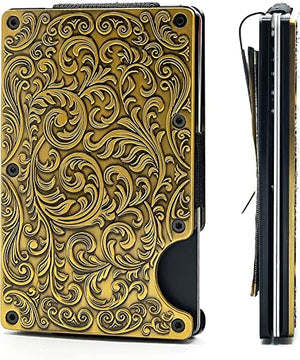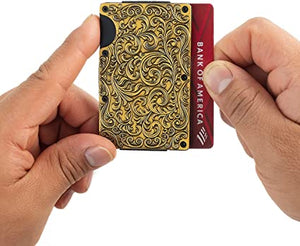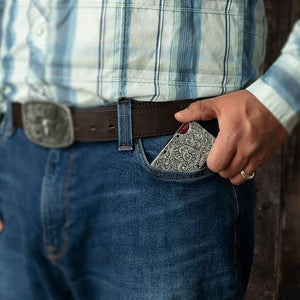 Card Holder
No bulk in your pocket: This Men's minimalist small wallet is the perfect mini size to fit comfortably in your front or back pocket. 3.5 x 2.25 x .5". You'll barely notice it in your pocket.

Unique elegant engraved design: This hand-drawn filigree pattern took countless hours to draw. It features elaborate scrollwork and looks as cool as if it is out of the popular Yellowstone series.

Tough as you are: Our thin durable wallets are made with high-quality metal that is made to last. Lightweight, functional, and easy to clean.

Settle-up at your fingertips: Convenient cut-out feature to access your cards with ease. This men's daily essential has an additional money clip on the outside of the wallet which secures your cash.

RFID blocking anti-theft security: Your personal data is safe in this wallet. RFID blocking prevents unauthorized scans of your cards & protects your personal and financial information.
Choose from 3 beautiful colors- Antique Silver, Antique Copper, and Antique Gold. Easy access to cards with a push of your finger. Small in size but big in style and functionality 3.5 x 2.25 x .07". Great gift for any occasion. Not bulky like traditional leather wallets slip it easily into your front or back pocket.

-Makes a great fathers Day gift or birthday gift for that special cowboy in your life.
-Beautiful Design is highly representative of Western heritage.
-Thin compact design holds a multitude of credit cards.
-Ideal for picture IDs, business cards, and credit/debit cards.
-This clip par dinero is great for those south-of-border travel adventures.
-Antique finish