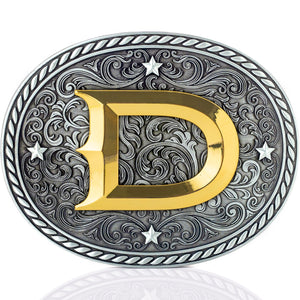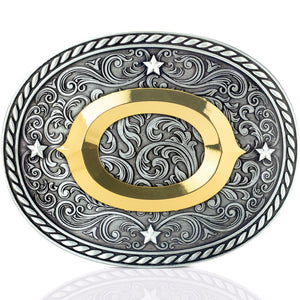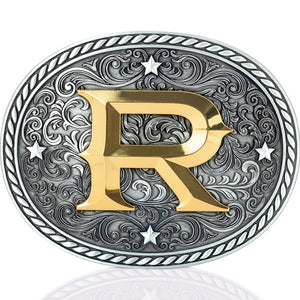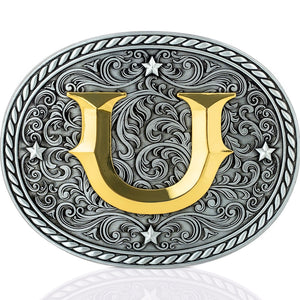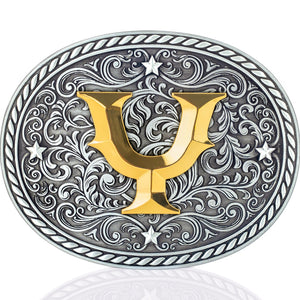 Western Cowboy/Cowgirl Initial Belt Buckle Gold
Zinc Alloy

Imported

Hook and Bar closure

Hand Wash

BRAND YOUR BELT WITH BOLD WESTERN STYLE! Nothing holds up your jeans better than a large, personalized belt buckle with your custom initial. The rodeo-style, oval buckle is just the right size for adults measuring: 3.75" L x 3" W

FITS MOST BELT LOOPS AND SNAP-ON BELTS! This buckle snaps onto adult belts that measure 1.5" wide and up to 1.5" thick. The strong, metal loop on the back of the buckle securely snaps onto your belt with ease.

ONE SOLID BUCKLE! Every personalized chrome letter from A to Z and zinc-alloy materials of the buckle are welded together into one, solid buckle, so you'll never have to worry about separation or malfunction.
COMFORTABLE TO WEAR! The smooth, curved oval design of this Western-style belt buckle won't dig into your waist when sitting, riding or even rounding up cattle.

KEEPS WESTERN TRADITIONS ALIVE! This high-quality buckle is a timeless classic for modern cowboys. The intricate, polished details of the buckle provide the perfect canvas for your custom initial to shine and it arrives in a sleek, bag ready for gift-giving. Patent Pending.
Make a statement and show off your Western pride with a custom initial Cowboy-style buckle.
PERSONALIZE YOUR BELT! FITS SNAP-ON BELTS UP TO 1.5" WIDE!
SUPER COMFORTABLE TO WEAR!
THE INITIAL AND BUCKLE ARE FUSED AS ONE PIECE! HIGH QUALITY AND MADE TO LAST!
STUNNING CHROME FINISH INITIALS AVAILABLE: A/B/C/D/E/F/G/H/I/J/K/L/M/N/O/P/Q/R/S/T/U/V/W/X/Y/Z
FEATURES: DIMENSIONS OF OVAL BUCKLE: 3.75" L x 3" W
FITS SNAP-ON BELTS UP TO 1.5" WIDE AND 1.5" THICK
MATERIAL: ZINC ALLOY